Seven Tried and True Laundry Products that Make Your Life Easier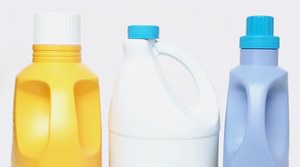 New laundry products come on the market in a steady stream, but don't overlook some of the products that have been around for a while that can make your laundry chores easier. Some of the products may cost a little more than other similar products, but the results and time saved make them worth the money. Others may even cost less, which is a benefit everyone loves.
Liquid Detergent
A good quality liquid detergent can be a real boon in the laundry room. You don't have to wait for it to dissolve in the wash water. If you've ever added powder detergent after putting clothes in the washer, you can appreciate the benefit of not having powder detergent stick to your clothes and make a mess and possibly damage a garment. Another benefit of liquid detergent is that it can be used to treat spots. You may want to check for color-fastness on an inside seam first, but you can treat the stain with a small amount of the regular amount of liquid detergent directly on the spot, wait a minute or so and add the garment to the rest of the wash.
Color-Safe Bleach
This product comes in liquid and powder form and boosts the cleaning power of detergent. With color-safe bleach you don't have to worry about the risks of chlorine bleach leaving spots that can't be repaired. Color-safe bleach is particularly helpful to moms whose children bring in challenging laundry problems such as mud, grape juice, grass stains, and other kid-prone stains. It can be used on even the bright colored garments without risk of fading the colors.
Detergent with Color-Safe Bleach Added
This product combines two steps into one and produces cleaner clothes with less effort. Particularly convenient is liquid detergent with color-safe bleach added. You get all the benefit of both products in one. Be sure to check the label on detergents with bleach. Some are recommended for white clothes only. The type of bleach used in those products is not color safe and can leave spots on clothing especially if the product is not fully dissolved before the clothes are added to the washer.
Spray Pre-Treatment for Stains
Spray pre-treatments are a big help in extending the life of your garments because they remove stubborn stains, and they also save time. Just spray stains with the product, wait up to five minutes, or the time specified by the manufacturer, and add the garment to the washer. There is no prolonged and time-consuming routine that must be done. These products work well on greasy food stains, grass stains, and tomato sauce. The treatment can be repeated, if necessary, on a stubborn stain after a garment is washed but before being dried in the dryer.
White Vinegar
Vinegar is not necessarily thought of as a laundry product, but you'll be surprised at the benefits of keeping a bottle in the laundry room. Adding 1/2 to one cup of white vinegar to the final rinse water, reduces the detergent remaining in clothes making them softer and fresher. Vinegar has the added benefit of being very inexpensive, which makes it worthy of being considered for a fabric softener substitute that reduces static electricity. Vinegar is famous for its odor reducing properties so adding it to the rinse water of a stinky load of laundry—say your son's athletic clothes—makes perfect sense. Vinegar is also touted as a great stain remover for certain stains, such as fruit stains, wine, coffee, and tea. Just soak the garment in full strength vinegar for about an hour before washing as usual.
Anti-Static Spray
These anti-cling sprays remove static that can cause embarrassing problems, such as skirts that cling to panty hose. Even clothes that have been treated with fabric softener can build up an excess of static electricity in winter. Anti-static sprays treat the problem without sending a garment back to the laundry. Anti-cling sprays also make removing pet hair and lint easier by removing the static electricity that causes them to stick like glue. These products are even handy for other uses such as spraying a hairbrush to tame flyaway hair or spraying on carpets to prevent those surprising shocks when you touch a light switch or another person.
Spray Starch
Spray starch has been around for decades, but its benefits are still appropriate for modern life. Spraying starch on collars, cuffs, plackets, and yokes can give a crisper finish to ironed clothes and give a more professionally laundered appearance to clothes. It also makes ironing easier because it helps remove wrinkles. Another advantage of spray starch over regular starch is you control the amount of starch used and the placement. For example, you can heavily starch the placket and the cuffs but lightly starch the collar.
Keeping Laundry Simple
You don't have to go to a lot of trouble and expense to make the most of getting your clothes clean. Depending on tried and true products can simplify the process and save you time and make your life simpler.
By Linda Nelson
©2005 garmentcare.info. All Rights Reserved.