Ironing Efficiently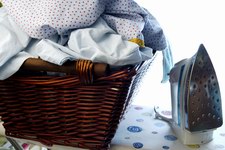 While ironing is not a chore most of us love, or even like to do, it is one of those necessary things in life unless we want to look wrinkled and haphazard. The following will help to make this chore more efficient.
Believe it or not, how you wash and dry your clothes can help to eliminate wrinkles. Make sure you always read the label on the garment to clarify the washing and drying instructions.
Here are some tips on washing/drying fabrics to help reduce wrinkles:
Certain synthetic fabrics such as washable woolens, nylon, acrylic, and polyester should be washed in hot or warm water. Use a permanent-press cycle. This will help reduce and sometimes remove wrinkles altogether.
Bright colors and fabrics only lightly soiled should be washed in cold water to help reduce wrinkles.
This is a mistake a lot of people make. Instead of just throwing your clothes from the washer into the dryer, make sure you shake out each item of clothing before placing in the dryer. This will help to reduce the wrinkles.
Overloading the washer/dryer can cause clothing to wrinkle. Make sure that each load you put in has plenty of room for tumbling.
Another mistake people make is excessive over drying. Too much heat can set wrinkles.
Using the correct iron temperature is also very important. Make sure you read the garment care instructions on your piece of clothing. If one is not available, you can use the following for a basic guideline.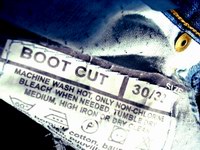 Acetate, Acrylic Fabrics should be ironed with a cool iron.
Cotton, Linen, Ramie should be ironed using steam with a medium to high heat.
Nylon should be ironed with low heat.
Polyester should be ironed with a low or medium heat.
Rayon and Silk garments should be turned inside out and ironed using low heat.
Cashmere, Mohair, and Wool should be ironed with steam and a medium heat.
Other tips for ironing include:
When ironing, start with the clothing that needs low heat, then medium heat, and finally high.
When ironing, make sure you keep a spray bottle handy. Creases will last longer if you create a crease, dampen it and then re-iron it.
When using water in your iron, make sure you do not use hard water. The minerals in the water can build up and eventually clog the iron.

If you are using starch while ironing, either spray with starch and let sit for a moment iron quickly as the starch might stick to the iron and burn.
Iron with the grain of the fabric so that it doesn't stretch.
Keep your iron clean. If the sole-plate is looking dingy and dirty, it may reduce its effectiveness. Clean with toothpaste or an iron cleaner.
Once you have ironed your clothing, hang immediately.
Never iron a soiled item of clothing. This will only set the stain in further.
Again, the most important thing you can do when ironing your clothing is to read the care instructions on the garment.
By Penny S. Harmon
©2005 garmentcare.info. All Rights Reserved.